Adding a discriminator to the Uniden Bearcat BC80xlt scanner isn't an incredibly difficult task. BC80xlt discriminator
Simply find pin 9 of the MC3361 chip, connect a 2.2nf capacitor connected to a 10k ohm resister w/ a small piece of wire to go to a 3.5mm headphone jack. The capacitor connects to the radio shield, and that's about it (I suggest you follow the steps above).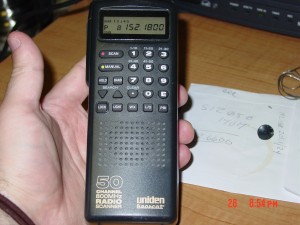 My BC80xlt  is slightly different that in the pictures in the link above. In some way, it's closer to the BC60-xlt-2. The innards of my device include a main board, connected to a daughterboard.  The "down" side of the daughterboard has the chip, the "top" side has the shield.  This requires one to route the discriminator around the daughterboard, avoiding contact with anything accidentally. My soldering job is pathetic (I have no illusions about that). In my defense I am using a rusty tip which doesn't conduct very well, but beyond that I really have no excuse aside from not being that skillful. My big concern was damage to the MC3361 by heat from the soldering iron. In fact, later I realized I was using a 30wWatt iron – not the specified 15Watt. (D'oh!) Turning it back on yields no apparent difference, so hopefully all is well.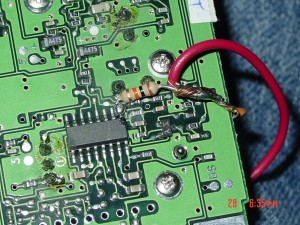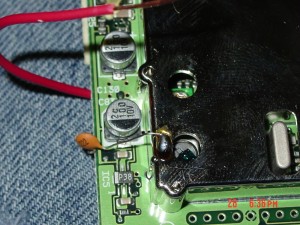 Here's how the two separate parts of my scanner look: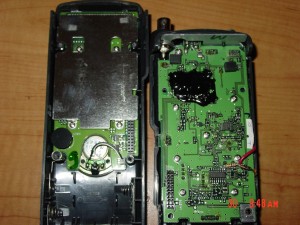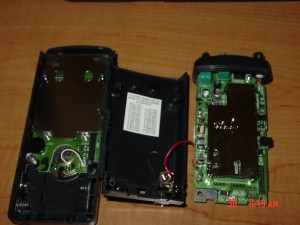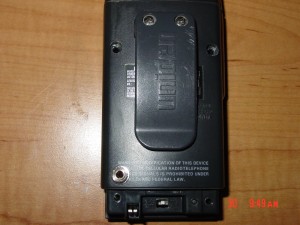 I had to make a few additional modifications. First of all, I removed the former cap and resistor (seen above),  and replaced it with a much better soldered joint (practiced for a bit prior to doing so). The 3.5mm jack has one problem – when pushed in all the way the male connector actually makes contact with the grounded sheild (that's bad). The shield doesn't appear to get hot, so I've used a small piece of plastic to prevent that from happening. Now everything fits snug, and this works great.